Our New 3rd Generation Cardio Wellness Supplement
2nd DISCUSSION ON CARDIO WELLNESS
Our CARDIO WELLNESS L-Arginine supplement IS THE FIRST AND ONLY 3rd GENERATION L-Arginine with it's ADVANCED, UNIQUE, and SCIENTIFICALLY PROVEN FORMULA.
Here is the story how it works and why it is unsurpassed in its scientifically proven biological effects:
NITRIC OXIDE is one of the most important molecules in the body and specifically so in the blood circulation. Nitric oxide (NO) protects the blood vessels from the harmful effects of high cholesterol, high blood pressure, smoking, and diabetes. In any of these conditions, medical scientists have found that the protective action of NO is diminished by the influence of the so-called cardiovascular risk factors and by inflammation.
Lack of NO results in diminished ability of the body to maintain normal elasticity of the arteries, keep off the bad cholesterol from the arterial wall, and prevent the growth of plaque.
Such lack of NO comes about by three different ways which often act together to be even more harmful:
Inability of the vascular cells to make enough of the enzyme which produces NO
Diminished activity of the enzyme that makes NO, caused by absolute or relative lack of its substrate, L-arginine.
Exacerbated generation of too many oxygen radicals that inactivate NO once it was
Usual marketed L-arginine supplements aim to increase the levels of L-arginine with the aim to enhance NO production. However, this can only work as a means against the second cause for diminished NO, namely "diminished activity of the enzyme that makes NO, caused by absolute or relative lack of its substrate, L-arginine", leaving unchanged the diminished levels of the enzyme and the exacerbated levels of oxygen radicals.
Cardio Wellness L-arginine supplement has been SCIENTIFICALLY PROVEN in extensive research to protect the cells of the arterial wall from the deleterious impact of oxygen radicals. T rate of production of oxygen radicals by endothelial cells upon inflammatory stimulation in the presence and absence of our advanced, third-generation L-arginine formula.
The data demonstrate a clear PROTECTION FROM OXIDANT DAMAGE. In fact, this is THE ONLY ARGININE SUPPLEMENT WITH A SCIENTIFICALLY PROVEN INHIBITORY EFFECT ON OXIDATIVE STRESS!
Thus, Cardio Wellness's L-arginine supplement not only increases the power of the biological effects that second-generation L-arginine supplements have on NO production, but it also protects NO from oxygen radicals.
The reaction of NO with oxygen radicals may generate NITROSATIVE STRESS, a feature dreaded for its cell and tissue-damaging effects when there is INFLAMMATION. This reaction shortens the duration of the life span of NO and thereby limits the protective effects of NO on the arterial wall. 
Further, nitrosative stress is harmful to cells and may cause damage to cell membranes and cellular function. Our scientific data clearly show that THIS ADVANCED, THIRD-GENERATION L-ARGININE SUPPLEMENT REDUCES THE RISK OF OXIDATIVE STRESS even in the presence of inflammatory stimuli, an effect that goes well beyond those shown for any other L-arginine supplement.
Thereby, it limits the chance of nitrosative stress beyond any other arginine supplement. The unique combination of L-arginine plus L-citrulline and a proprietary blend of natural, herbal extracts with scientifically proven efficacy, is the only L-arginine supplement with such a broad spectrum of high-power biological activity.
IT'S A UNIQUE L-ARGININE FORMULA ESPECIALLY SUITABLE FOR CARDIOVASCULAR AND HEART DISEASE PREVENTION AND REPAIR.
Figure: Inhibition of reactive oxygen species (superoxide radical) production in vascular endothelium.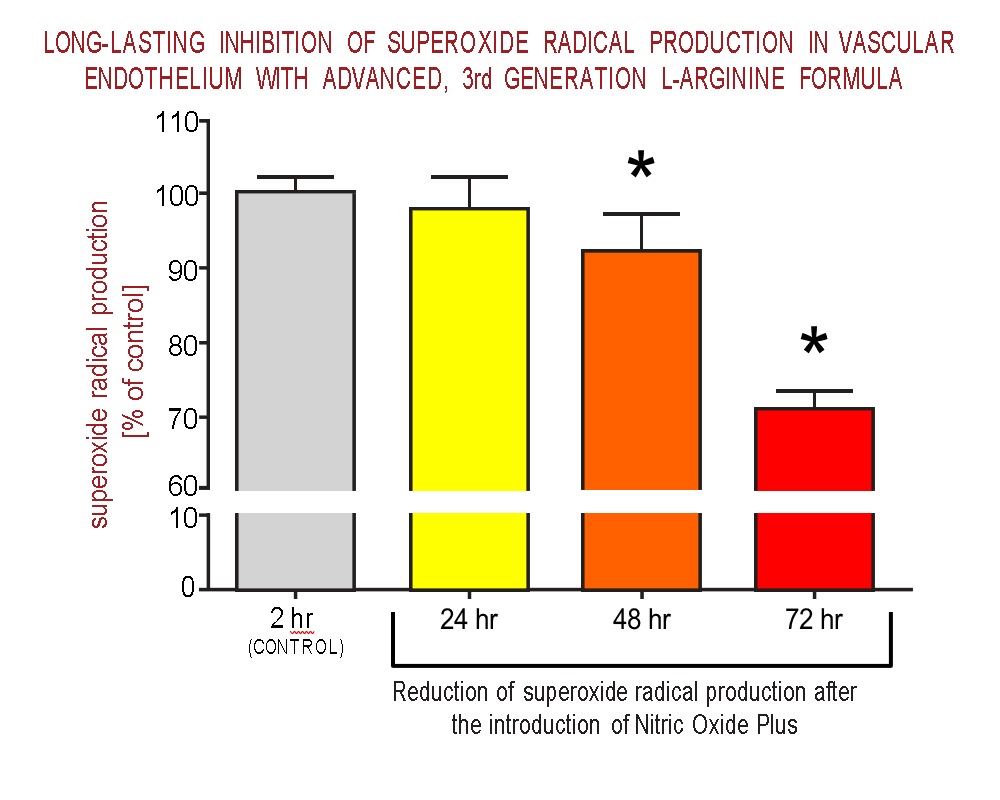 AS THE GRAPH ILLUSTRATES ABOVE CARDIO WELLNESS REDUCES THE CELLULAR PRODUCTION OF SUPEROXIDE RADICALS.
Endothelial cells were incubated with the advanced, third-generation arginine formula for 24 hours, 48 hours, and 72 hours, or in the presence of arginine alone (Control). ROS production after stimulation of cells was measured by chemiluminescence. Asterisks indicate statistically significant reduction of superoxide radical production as compared to control.